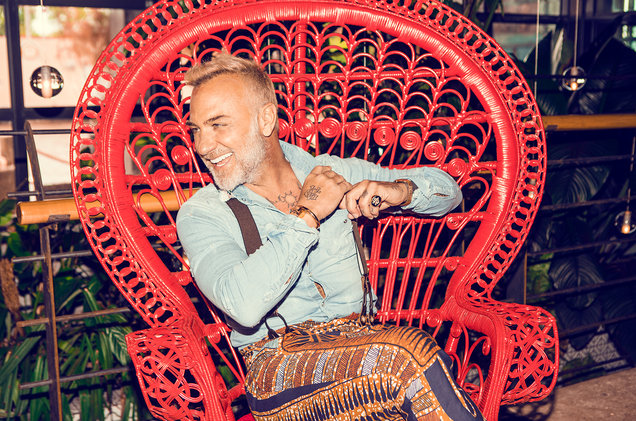 There he is dancing on a table in Italy with Zac Efron. There, taking the stage in Turkey with buddy Luis Fonsi. Here, all smiles with an arm around Cristiano Ronaldo. And there, showing off his toned, heavily tattooed figure while dancing to Pitbull on a private pool deck in Ibiza. Scrolling through the Instagram of Italian entrepreneur Gianluca Vacchi, there's no shortage of glamorous yacht parties, private jet selfies and celebrity sightings — just ask the 11 million followers who track every move of the 50-year-old, self-described "global entertainer."
Born in Bologna, Italy, Vacchi is heir to the IMA group, a company specializing in industrial packaging and pharmacy, and has padded his fortune with several entrepreneurial efforts including luxury watch brand ToyWatch. And since creating his Instagram in May 2013, Vacchi has built a powerful brand off what he terms the "GV Lifestyle," which includes a clothing and accessories line and a book titled Enjoy.
But if you've been following Vacchi lately, you'll notice that a new activity has begun to take up his timeline: Learning to DJ. Vacchi is entering what he calls his "second life" with a music career, releasing his first single "Viento" — a Latin-flavored jam that pays homage to Vacchi's Argentinian roots — on Spinnin' Records shortly after his 50th birthday in August, with help from buddies Fonsi and J Balvin. And the link between his social media stardom and jump to the music world is closer than an outsider might think.
"I'm very attracted by any form of conversation," Vacchi tells Billboard over the phone from Milan. "If it's a single conversation between me and you…or a conversation with a public or with a crowd, which can be through social media, or with a crowd on a dancefloor, through this kind of conventional dialogue, which is music."
It helps that music runs in the family. Growing up in Bologna, Vacchi received piano lessons from his Argentinian grandmother, a piano teacher, and his close cousin grew up to be a contemporary composer. "I love to dance, I love to entertain people," Vacchi continues. "So this carries me to the natural consequence of trying to be a DJ."
For most aspiring DJs, the first step might be to aim for gigs at local clubs. But not when you're Gianluca Vacchi. His first venture into music came at the direct request of Colombian reggaeton superstar Balvin, who reached out to Vacchi after becoming interested in the Italian influencer on — you guessed it — Instagram.
The two became fast friends ("Balvin is really a little brother for me," Vacchi says), and it wasn't long before Vacchi was invited to appear in the vibrant music video for Balvin's chart-climbing Willy William collab, "Mi Gente," which has logged more than 790 million views on YouTube to date. "I arrived on the stage, and I said to Balvin, 'so, give me the choreography,'" Vacchi says. "He said, 'no, no, you jump on the stage, you do what you want.'"
Vacchi says Balvin and other Latin music stars, like Fonsi, began to offer him advice for forging a career in the music industry. In turn, Vacchi offered his own words of wisdom on the pleasure-seeking, lavish "GV Lifestyle" — "I've been being like, a lifestyle guru for them," he explains. But it would take more than a couple tips to bring Vacchi's dreams of DJ stardom to fruition. Vacchi says he's been working on his craft for "many months — hours and hours a day" at a private disco venue he built in his own house.
Creating his first single, "Viento," Vacchi was immediately drawn to Latin sounds, which should come as no surprise to his followers. The hilarious, obviously-choreographed dancing videos Vacchi is known for posting to Instagram are nearly always set to Latin tracks, from Ricky Martin's "La Mordidita" to Pitbull's "Fireball." "I don't want to exaggerate, but I could say that it's the new hip-hop," Vacchi says of Latin music, noting the international success of "Mi Gente." "It's the music that makes you feel it. You cannot stand still when you listen to it."
"Viento," or "Wind," borrows a catchy chorus from a Colombian chant that Vacchi said he caught ear of while watching a documentary by United Nations agency UNESCO: "nací con viento crecí con barco," or, "I was born with the wind, I grew up with the boat." Keeping with the theme, the music video takes place on a boat — though because it's Vacchi we're talking about, this particular boat is a luxury yacht.
But you can't attract a social media fan following that overtakes the population of New York City without picking up a few nay-sayers along the way. Asked whether he's received any flack for his sudden venture into music, Vacchi admits that not everyone has been welcoming. "They think that to be a DJ you have to have conventional experience," he says. "You don't need a license to DJ. The only entity that can judge you is the public, the crowd." Well, the public has spoken: On YouTube, "Viento" has picked up more than 3 million views to date, the single itself racking up 2 million streams on Spotify.
And Vacchi says his DJ career is just getting started. He's claimed a spot at the upcoming Amsterdam Dance Event, a prestigious five-day electronic music conference and festival, where he'll host an exclusive event on Oct. 21. Currently, Vacchi is in the studio working on his next track release, which he says will follow a Latin-influenced style similar to "Viento." And DJ training aside, Vacchi points to his persona as entertainer — the same vigor for living that attracts millions to his Instagram — as the crucial factor that will keep fans listening.
"There's a part that you cannot learn — you have it or you don't — which is what kind of vibe you share with people and transmit to people when you're DJing," Vacchi says. "That part, I think I can give."