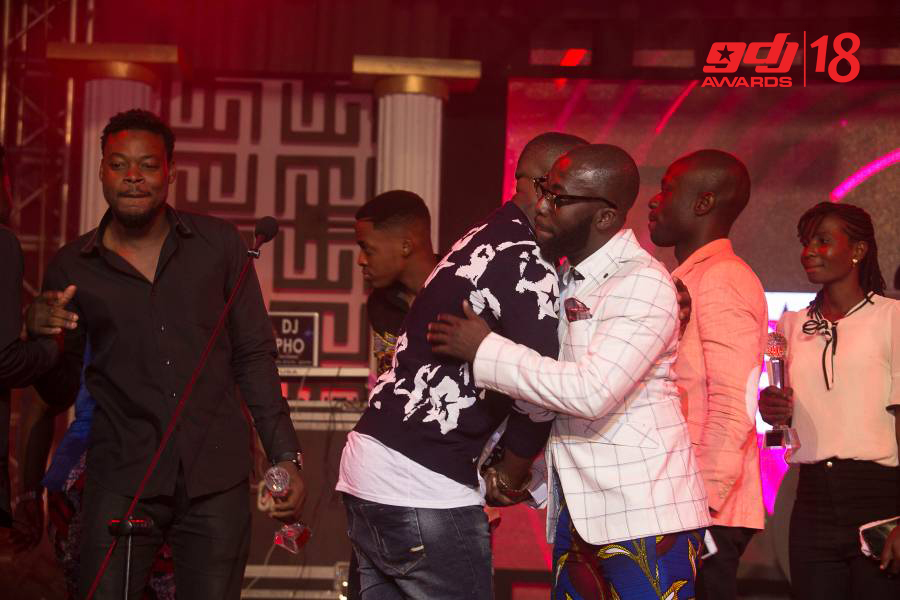 With top notch creativity,  amazing performances and fantastic artistes lineup, the 6th Annual Ghana DJ Awards which came off at the Accra International Conference Centre on Saturday May 5 goes down in books of history as one of the most exciting and and captivating events of the year!
Kwaw Kesse, DJ Mic Smith, Darko Vibes, MzVee, DJ Vyrusky, Medikal, Kuami Eugene, DJ Mpesempese, DJ Nyce, DJ K Krack, Kidi, Captain Planet and a host of other top stars lighted up the stage last night with mind-blowing performances which turned the awards night into a total party time.
Host Gloria Sarfo held the forth alongside official host Prince David Osei for Joselyn Dumas who had a knee injury, making it difficult for execution of her role as host on the night. Joselyn Dumas was backstage all night during the event hoping her knee would feel better so she could get on stage.
DJ Vyrusky was adjudged overall best DJ of the Year. Check out the full list of winners:
REGIONAL CATEGORIES
Best DJ – Greater Accra Region
DJ Vyrusky
Best DJ – Ashanti Region
DJ Slim
 Best DJ – Brong Ahafo
DJ Bryt – Voice FM
Best DJ – Volta Region
DJ Ricky Augustine                                                                                                                                                                                                                     
 Best DJ – Central Region
DJ Poppa
Best DJ – Northern Region
DJ Kofi
Best DJ – Upper East Region
DJ Alutha
Best DJ – Upper West Region
DJ Tobile
Best DJ – Western Region
DJ X
Best DJ – Eastern Region                                                                                                                                                       
DJ Stanzy
 NATIONAL & INTERNATIONAL CATEGORIES
 DJ/Artist Collaboration of the Year
DJ Vyrusky featuring Shatta Wale/Kuami Eugene – Adwenfi
 DJ Discovery Of The Year
DJ Switch
Best Event DJ Of The Year
DJ Mic Smith – Shutdown Concert
Artiste DJ Of The Year                           
DJ Shiwaawa – Ebony
Scratch DJ Of The Year
DJ Mpesempese
Best Mobile DJ Of The Year
DJ Adom
Mixtape Of The Year
DJ Aberga – The Challenge
Best Video Jockey Of The Year                                                                   
DJ Xpliff – GH One TV
 Best MC/Hypeman Of The Year
Ogee The MC
Best Night Club DJ Of The Year
Vision DJ – Champs
Best Female Radio DJ Of The Year
DJ Kess – YFM
Best Male Radio DJ Of The Year
DJ Slim – YFM
Best Female DJ Of The Year
DJ Nyce
DJs' Song Of The Year                                                                                           
Patapaa – One Corner                                                                                                                                                                                                                                                                                                                                                                                                                                                                                                                                                                                                                       Best Pub DJ Of The Year
DJ Aroma – BarNaas
Reggae/Dancehall DJ Of The Year
King Lagazee
Best Hip Life DJ Of The Year
DJ Slim – YFM
Best HighLife DJ Of The Year
DJ Oyoko Dehyee
Gospel DJ Of The Year
Papa Bills – Adom FM
Best Campus DJ Of The Year
Iphone DJ – University Of Ghana
Best International Ghanaian DJ
DJ Bretuoba
Best International Non Ghanaian DJ
DJ Cuppy
Best DJ Of The Year
DJ Vyrusky
Life Time Achievement Award
Mark Okraku Mantey
Record Promoter Of The Year
DJ Advicer