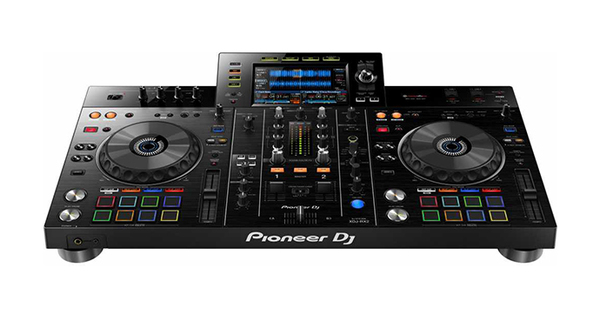 BUY IT NOW AT THE LOWEST PRICE
Pioneer always building new tools for DJ's!
Today they have announced an upgraded version of the popular all-in-one DJ system, the XDJ-RX, the XDJ-RX2. The new two-deck, two-channel system inherits features and design traits from our flagship NXS2 set-up to bring you a professional DJ experience whether you use it to control music stored on your laptop via rekordbox dj or directly from a USB.
The 7-inch large touch screen in the center of the XDJ-RX2 displays waveforms from both decks simultaneously, plus detailed track information including sync status and playback position so you can get a quick visual reference during mixes. You can bring up a QWERTY keyboard on the display for finding your next track faster, plus there's a large rotary selector and Needle Search, Track Filter and Short Cut features inherited from the flagship CDJ-2000NXS2 multi player. Each deck has eight, large, multi-colored Performance Pads for tactile control over Hot Cues, Beat Loop, Slip Loop and Beat Jump, and you can get even more creative with the Beat FX and Sound Color FX which come from the flagship DJM-900NXS2 mixer.
The XDJ-RX2 comes bundled with a license key for our professional DJ performance application, rekordbox dj, and will be available from late September 2017.
Watch the introduction video and check out the key features of the XDJ-RX2 below.
7-inch large touch screen and other features from the CDJ-2000NXS2
Stay in control of your performances at all times with help from the 7-inch large touch screen in the center of the XDJ-RX2. Keep an eye on waveforms and detailed track information, including sync status, from both decks at the same time to ensure seamless mixing. Use Wave Zoom for a closer look at the current playback position and call up a QWERTY keyboard to quickly find the next track you want to play. You can also browse through tracks using the large rotary selector and Needle Search, Track Filter and Short Cut features, all of which come from the top-flight CDJ-2000NXS2 multi player.
Layout and performance features from the DJM-900NXS2
Perform precise, smooth mixes on the XDJ-RX2 using the EQs and channel faders which feature curves equivalent to those on the DJM-900NXS2 mixer. Add creative flair with Sound Color FX and Beat FX, also inherited from the flagship mixer.
Multi-colored Performance Pads
Unleash your creativity with eight large, multi-colored Performance Pads on each deck for instant access to Hot Cues, Beat Jump, Beat Loop and Slip Loop, all of which are popular professional features. You can set up to eight Hot Cues on each deck.
USB CONNECTION (Link Export) for rekordbox
Import tracks to our rekordbox music management application on your PC/Mac to prepare them for performances by analyzing BPM and setting up Hot Cues and loops. Using USB CONNECTION(Link Export) mode, you can connect your laptop to the XDJ-RX2 and play your prepared tracks via the system without needing to export them to a USB device.