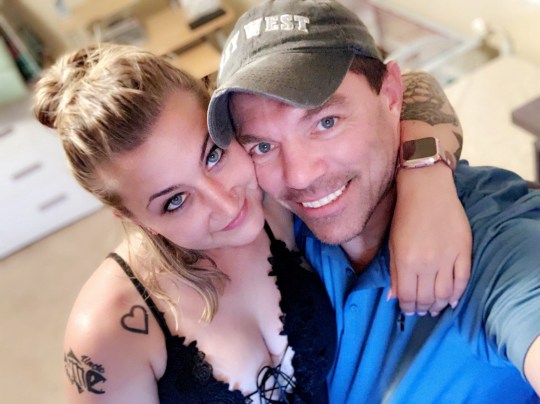 A woman has fallen in love with her wedding DJ, just two years after she got married – after her husband made her feel 'neglected'.
Megan Willis, 26, originally from Baltimore, Maryland, first met her current partner, business analyst and DJ, Mark Stone, 49, in November 2015 at a local restaurant he was working after being introduced by her sister, Kristen.
They shared a laugh and Megan's sister later booked Mark to DJ at Megan's wedding in July 2016. However, a year into her marriage, Megan was unhappy and felt neglected in her relationship and while she was at home bumped into Mark again – where she found herself opening up to him about her marriage.
They became close friends and started to chat every day and Mark confided that he he had from his wife, of 27-years.
They remained friends until 2018 when Megan's divorce was finalised. Eight months later, the pair moved to North Carolina to officially be together.
In the infancy of their relationship, Megan confided about the reasons her marriage was breaking down.
She explained: 'Talking with Mark really led me to the realisation that I shouldn't have to beg my husband for attention. 'Mark was just a friend yet every day he took time to check in on me. We both really enjoyed our chats no matter how silly or serious they were.
'His support through it all really meant a lot to me. Going through something like a divorce you really need to have someone there to support you and to vent to and that's exactly what Mark was for me and I'm forever thankful for that.'
At the time she worried about their 23-year age gap, what people would say and whether they'd wonder if she's a gold digger. 'Being together all negative thoughts went away,' she continued. 'I'm an older soul and he's a young soul so it's almost like we meet in the middle and it's perfect.'
Mark also opened up about his marriage in which he shares a son, 22, and daughter, 20, with his ex-wife. He struggled to come to terms with the end of his marriage but once he accepted it, he was able to open his heart to Megan. 'Once I realised my marriage was over, I opened my eyes to the love I felt for Megan,' said Mark. 'As I got to know her, I discovered underneath a person who filled your heart and soul with everything that defines love.' Soon their respective families got on board with the relationship.
credit: dailymail