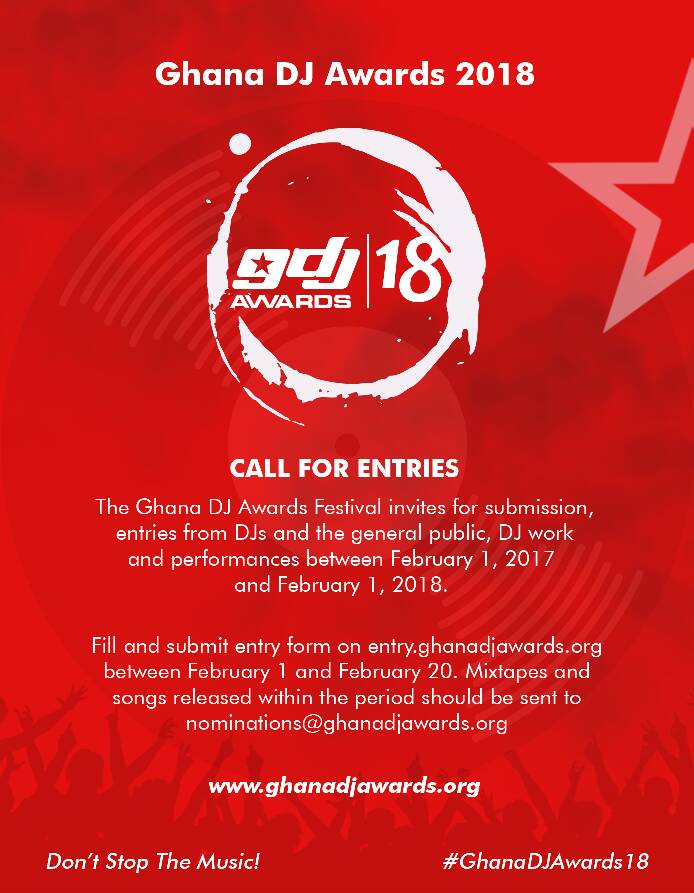 Merqury Republic, organizers of the annual Ghana DJ Awards, is glad to announce to DJs and the Ghanaian populace that public nominations will kick start on February 1, 2018 for this year's awards.
Disc Jockeys and their accredited representatives can make entries for the 2018 edition of the awards by first filling and submitting entry forms available on entry.ghanadjawards.org
This link will only be available from February 1, 2018.
DJ works and performances released between the period of February 1, 2017 and February 1, 2018  should be sent to nominations@ghanadjawards.org from February 1 to February 20, 2017.
Kindly note that late submissions will not be entertained.
The 6th edition of the prestigious Ghana DJ awards is under the theme 'Don't Stop The Music!'
In a bid to celebrate deserving DJs, organizers humbly urge DJs and and the general public to submit entries before the deadline to avoid any inconveniences.
Join the conversation on the awards with the hash tag #GhanaDJAwards18 on all social media platforms.
Ghana DJ Awards – Celebrating DJs in Ghana!
By: ghanadjawards.org