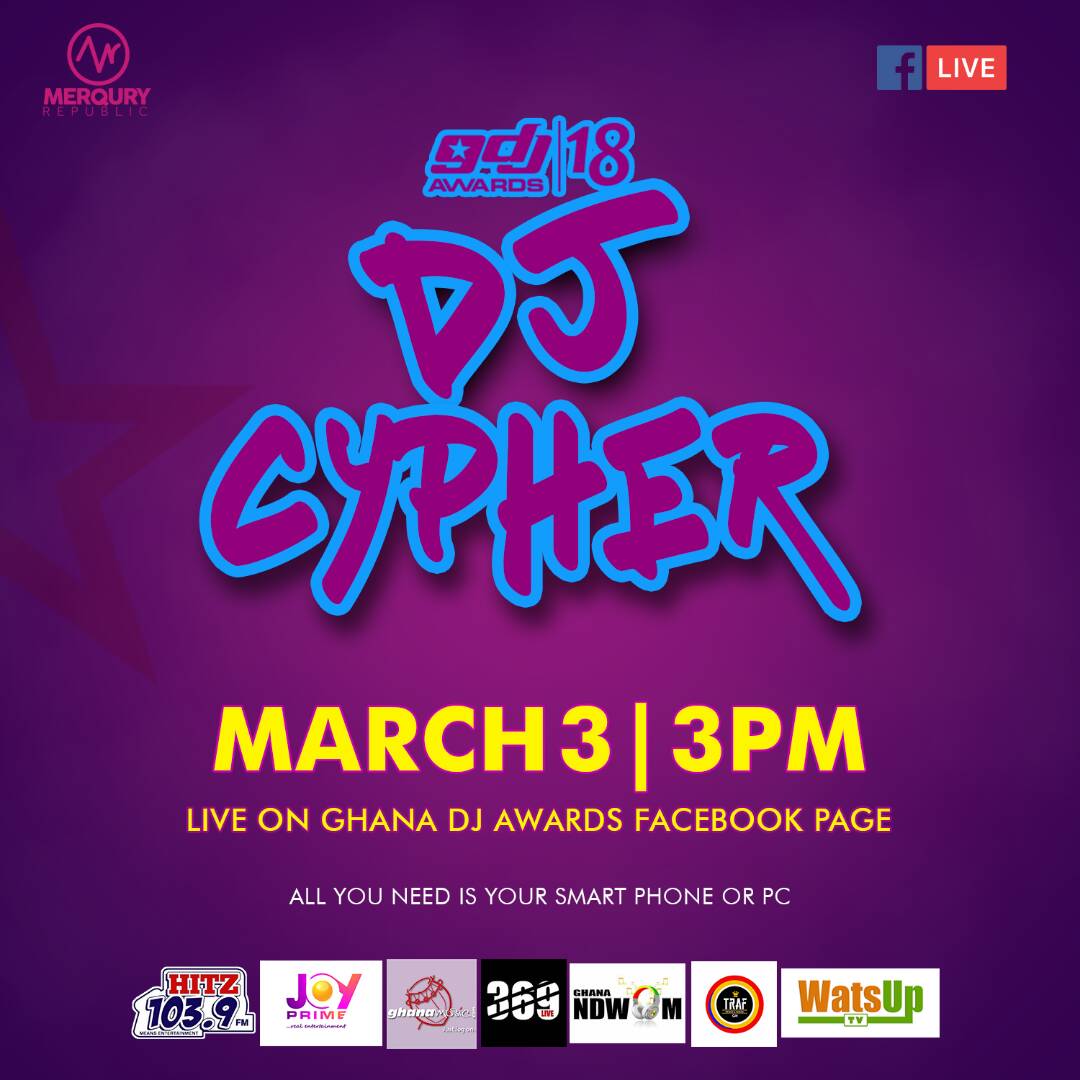 As monitored on the Cruise Control show with Merqury Quaye on Hitz FM 103.9, the list of selected DJs for the Cypher of the 2018 edition of the Ghana DJ Awards has been released.
These DJs will perform at the 2018 Ghana DJ Awards Cypher which will be streamed live on Facebook at an undisclosed location.
Thousands of viewers across the world are expected to watch the Cypher on March 3, 2018 at exactly 3PM.
The list of DJs for the first episode include:
DJ BASS 
DJ ABERGA 
DJ SLIM
DJ LAXTIK
DJ MPESEMPESE 
DJ KEVIN
DJ GOSPOL
DJ RAENNIE 
DJ QUE 
This year's energy-packed Cypher will take your adrenaline a notch higher, quickening your heartbeat but still leave you in anticipation for more.
It will be hours of back-to-back mixes and scratches from your favorite DJs in the country.
Make sure you log on to Ghana DJ Awards on Facebook on March 3, 2018 for the live Cypher showdown.
You can as well follow Ghana DJ Awards on all social media platforms for updates.
This event is brought to you by Merqury Republic and supported by Hitz FM 103.9FM, Joy Prime TV, Ghanamusic.com, GhanaNdwom, TRAF Ghana, Watsup TV Africa and 369 Live.
Ghana DJ Awards 2018…Don't stop the music!
Watch last year's Cypher below:
Ghana DJ Awards Cypher 1.a Live from Accra, Ghana.

Posted by Ghana DJ Awards on Saturday, January 28, 2017
https://www.facebook.com/ghanadjawards/videos/1472227632801593/
By: ghanadjawards.org