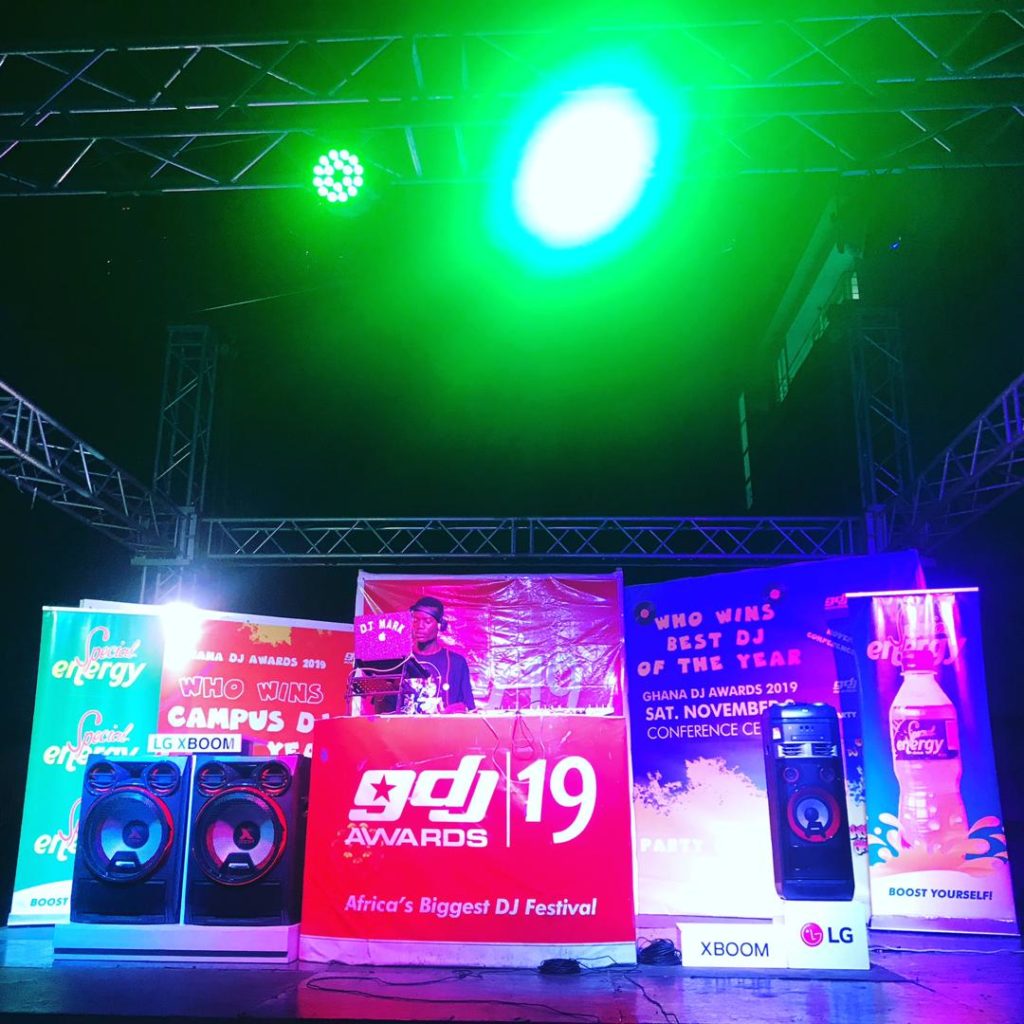 It is barely a week to the prestigious Ghana DJ Awards and the mood for the 'Party In Ghana' has been set!
Music lovers who thronged Purple Pub on Friday would testify that all the top DJs in Ghana are ready to set a new benchmark with an unforgettable party groove on November 2 at the Accra International Conference Center.
The Nominees Jam at Purple Pub on Friday was loaded with so much excitement as DJs treated patrons to some of the best mixes to start one's weekend.
MC Versace introduced DJ Mark, who warmed up patrons for the long night with some mid-tempo tunes.
DJ Toyor increased the tempo with Praye's 'Angelina', got the crowd to sing Ponobiom's 'Amen' then switched to 'Jama' and changed to Daddy Lumba's 'Obi ate me so' before finally rocking some current tunes.
DJ Juicy took over from DJ Toyor with some crunk tunes, switched to some dancehall riddims and suddenly 'Pulled Up' with Stonebwoy before transitioning into some current hit tracks.
Well-endowed ladies at Purple Pub took the stage shortly in a keenly contested dance battle.
Dance contestants and some patrons were given wonderful prizes by sponsors and tickets to the 2019 Ghana DJ Awards to be held at the Accra International Conference Center.
MC Omarion grabbed the microphone afterward and introduced DJ Seihor.
The 2019 'Battle of Our Time' contender started with some dancehall tunes, got patrons to sing 'Forever Young' with Merqury Quaye and then continued with some banging tunes.
DJ Ikon controlled the turntable shortly with tracks like 'Shatta City', 'Wiase y3 d3', 'Kpo K3k3', 'Amanfuor Girls', 'Omo Ada' and other party mixes.
DJ Seihor's contender for the 2019 Ghana DJ Awards 'Battle of Our Time', DJ Skinny, mounted the stage afterwards and interacted with the audience to begin his craft.
DJ Skinny dished out songs like 'Vibes' by La Même Gang , 'I Dey Mad' by R2bees, 'Talk of Gh' by Sarkodie and Yaa Pono featuring Shaker as well as other classic hits.
There were also performances by DJ Kiss and other amazing DJs plus an appearance by 'Eskebelebe' hitmaker Teflon Flex.
Ghana DJ Awards 2019 is under the theme 'Party In Ghana' and the event is expected to showcase the indispensable role DJs play in the entertainment space and in the country.
This year's event is sponsored by LG X Boom, Special Energy Drink, Melcom Ghana, BrainWise, 24/7 Boutique and supported by Hitz FM and Joy Prime TV.
Dial #714*5*2 to purchase tickets with Mobile Money or visit www.ticketmiller.com to purchase tickets.
Tickets go for GHc50 for students, Ghc100 for regular, Ghc200 for premium and Ghc300 for VIP.
Grab your tickets at My Cellphone Repairs, Koala Supermarkets, NyoNyo, Pinkberry and Nallem Clothing.