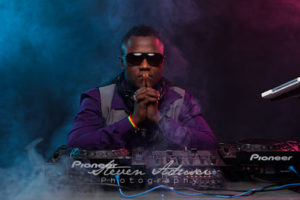 Michael Mensah , better known as DJ Mensah, is a Ghanaian DJ and entrepreneur. In 2013, he won the artist DJ of the year at the Ghana DJ Awards.
He is the official DJ for 15 times Ghana Music Awards winner and BET Awards winner Sarkodie.
Having a father who believed in the importance of education, DJ Mensah was allowed to choose the career of his choice only if he stayed in school. In high school he read business, before switching to Visual Art. He then read Purchasing and Supply at Accra Polytechnic before getting a degree in Marketing from Central University.
When he was growing up he did a short course at GIJ because he was interested in hosting, DJing and presenting. With all these he wasn't sure he wanted to work in a radio station locked in a little booth where he couldn't see the reaction of the people he was playing for. He wanted to be on the scene like the club DJs and event DJs and feel what is happening at the scene.
DJ Mensah met Nana Afful, a music event equipment owner who gave him a chance to use his equipment to sharpen his skills and also booked him for gigs.
He also became the in house DJ at Aphrodisiac Nite Club and then Fred of Charter House who is now with Evolution told me he was going to put me on the big stages then. True to his word I found myself on the stages of Stars of The Future, Agro among others.
DJ Mensah holds a certificate from RABODEF in Radio Broadcasting. He worked as a manager for Venus world multimedia and also double up as the Welfare manager and Production assistant for Empire Entertainment. He also worked as the Welfare manager and production assistant for 4syte TV and now with xfm 95.1.
The appearance of The Untouchable DJ at events is a signal that BET winner Sarkodie is coming on stage and this obviously is an enviable position he occupies.
Recounting how he met Sarkodie, he tells a story of an artist on the come up whose DJ abandoned him minutes before he hit the biggest stage of his career.
"I went to play a gig in Akosombo and was driving back to Accra. On my way, I had a call from Kosah Brown who used to be on his team; he called and said he wanted to me to play for Sarkodie and I asked how much he was going to pay me; he said he was going to pay me. It was Decemba2Rememba and it was his first major show about five years ago. I rushed to conference center, went to back stage, met him and the team and asked what songs he wanted me to play and he mentioned them. I told him the arrangement and what point I was going to cut the songs and all. He didn't know that part of performance, I was advising him from a DJ point of view and I showed him which part the crowd will react to and how he should come after they do so. Within five minutes, we were asked to be on standby. I told him to follow my lead. He had rehearsed with this DJ for three weeks and he didn't show up. He sent a mixtape of what they had rehearsed and asks them to play that, but we went on stage and we nailed it. It was one of his best shows. It looked much rehearsed but it wasn't and even till date we have never been in a room to rehearse for a performance."