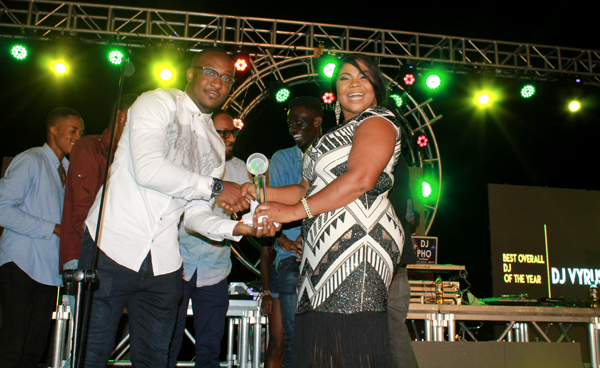 Last Saturday, May 6, Ghana played host to the top DJs in the country at the Rush Ghana DJ Awards, hosted by Merqury Quaye and Kahryn Yalley.
The ceremony, founded in 2012 by Merqury Quaye, a DJ Advocate and DJ/Presenter at Hitz 103.9fm, honors the top DJ talents in the music industry. The event featured stars including Nacee, Sorakiss, Gifty Osei, DJ Black, DJ Andy Dosty, Gloria Safo and Victoria Lebene, among others as performers and presenters.
DJ Vyrusky emerged the biggest winner of the night with four awards including Best Overall DJ Of the Year.
Check out the full list of nominees:
REGIONAL CATEGORIES
BEST DJ – BRONG-AHAFO REGION
DJ Shaker – Gifts FM
BEST DJ – CENTRAL REGION
DJ Poppa
BEST DJ – EASTERN REGION
DJ Police
BEST DJ – WESTERN REGION
DJ Bibini
BEST DJ – GREATER ACCRA REGION
DJ Vyrusky
BEST DJ – VOLTA REGION
DJ Cyril – JD 99.9FM
BEST DJ – NORTHERN REGION
DJ Kofi – 123 FM
BEST DJ – UPPER EAST REGION
DJ Aluther
BEST DJ – ASHANTI REGION
Mr Kaxtro
BEST DJ – UPPER WEST REGION
DJ Tobile – W FM
NATIONAL AWARDS
REGGAE/DANCEHALL OF THE YEAR
King Lagazee
GOSPEL DJ OF THE YEAR
Jay Smoke – GH One TV
HIGHLIFE DJ OF THE YEAR
Andy Dosty – Hitz FM
MOBILE DJ/SOUND SYSTEM OF THE YEAR
DJ Max – Max Entertainment
HIPLIFE DJ OF THE YEAR
Papa Bills
SCRATCH DJ OF THE YEAR
DJ Bass
DJ's SONG OF THE YEAR
Grind – Vision DJ ft AI
MIXTAPE DJ OF THE YEAR
DJ X – I Am Mixtape Vol.1
BEST INTERNATIONAL GHANAIAN DJ OF THE YEAR
DJ Akua – USA
ARTIST DJ OF THE YEAR
DJ Vyrusky – Shatta Wale
BEST CLUB MC OF THE YEAR
MC Lyrical
BEST VIDEO JOCKEY OF THE YEAR
DJ Xpliph
DISCOVERY DJ OF THE YEAR
DJ Kevin
BEST CAMPUS DJ OF THE YEAR
Jojo Neizer – KNUST
BEST FEMALE RADIO DJ OF THE YEAR
DJ Ohemaa Woyegye – Adom FM
PUB DJ OF THE YEAR
DJ Kiss – Purple Pub
BEST MALE RADIO DJ OF THE YEAR
DJ Black
BEST EVENT DJ OF THE YEAR
DJ Vyrusky – Ghana Rocks
BEST MUSIC PROMOTER OF THE YEAR
DJ Advicer – Happy FM
DJ/ARTISTE COLLABORATION OF THE YEAR
Vision DJ – Grind (featuring A.I)
BEST FEMALE DJ OF THE YEAR
DJ Nyce
BEST OVERALL DJ OF THE YEAR
DJ Vyrusky
Title sponsor: Rush Energy. Main sponsors: Senate No.1 Whisky, Black Beer Stout, Papa's Pizza, Xtra 5 Hair and Cosmetics, Joy Daddy, Perry Americana.