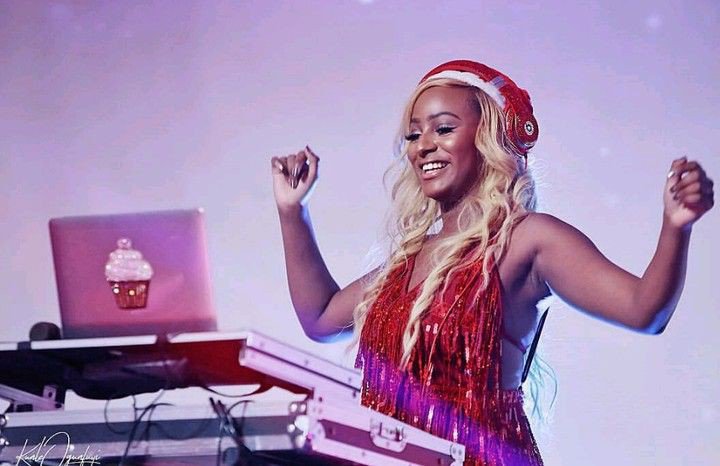 Ghana DJ Awards 2018 Best International DJ of the Year, Nigeria's DJ Cuppy, has been announced as the 'It Girl' for Maybelline, a leading
Makeup and cosmetics brand for women. 
The beauty company first began doing business in Nigeria in 2013 and two years later announced its presence in Ghana. Last year, it was awarded Makeup Brand of Year at the Ghana Makeup Awards.
"Cuppy embodies the determination, passion and dream of making it happen in New York City," said Sekou Coulibaly, managing director of L'Oréal West Africa, whose French parent company owns the Maybelline brand.
"As a young African female, it is an honour for me to be able to represent and join the Maybelline New York family!" said Cuppy, 26, whose singles include 'Vybe' featuring Sarkodie and 'Green Light' featuring Tekno.
"As a teenager, Maybelline was my first ever makeup purchase. It is exciting to be a voice for not only myself but for every other young girl who wants to feel appreciated and valued in their various communities. We are strong, beautiful and capable of exceeding expectations and that to me is what Maybelline stands for. I could not be prouder to represent them and make it happen."
The deal comes as more makeup companies push for diversity and inclusion. When Fenty Beauty, the makeup line owned by Rihanna, released a much-lauded 40 shades of foundation at once in 2017, the beauty industry took notice, as the normal practice is to release shade extensions further down the line. The move was applauded by black women who have often felt left out of the global makeup discussion.
Maybelline emphasised the inclusion drive in an official statement, saying the arrangement with DJ Cuppy "seeks to foster inclusiveness and empower all to make it happen".
Already, the company's new ambassador has begun promoting the brand. On Twitter, where DJ Cuppy (real name Florence Ifeoluwa Otedola) has more than 400 000 followers, she expressed her excitement "about my partnership with Maybelline Makeup! My goal is to drive inclusiveness and project Africa to the world through beauty!"
A different tweet shows her apply makeup in front of a mirror as she talks to the camera from time to time. On the cover of the makeup kit she uses, an unmissable group of letters spells the word "MAYBELLINE".