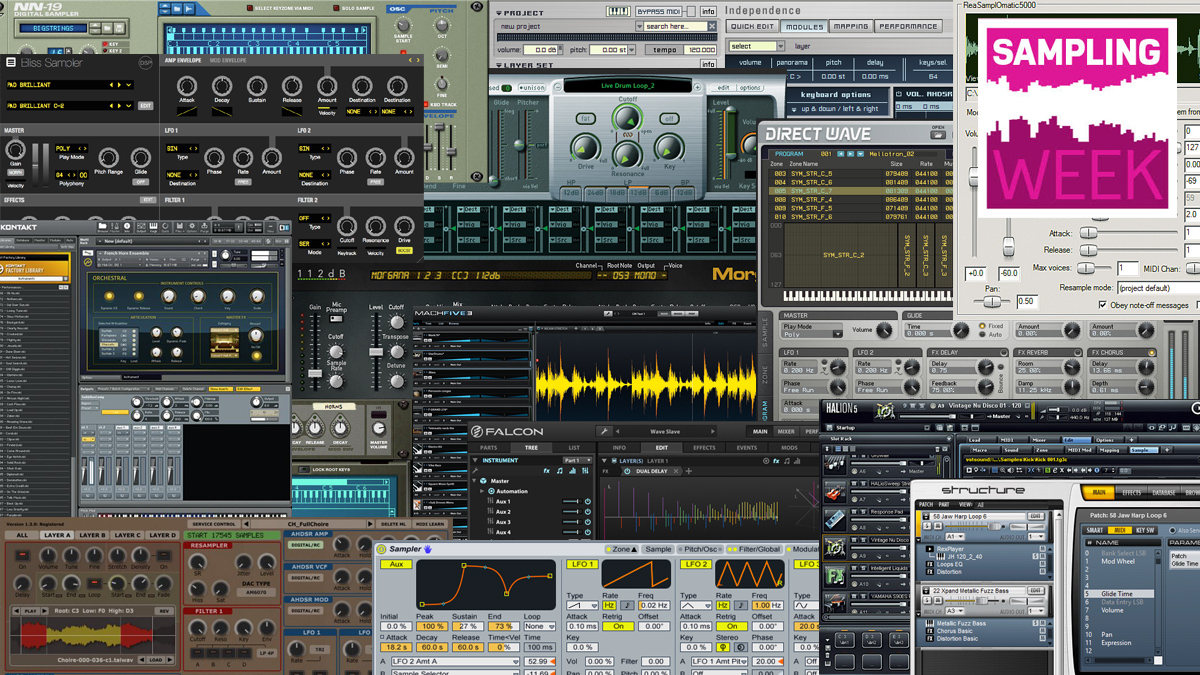 The soft option
Capable of everything from realistic instrument recreation to futuristic sound manipulation, the sampler – a digital instrument that allows the user to load in audio recordings ('samples') and then play them back at various pitches via MIDI – is arguably the biggest electronic music game-changer of the past 30 years, having defined production trends and even shaped entire genres.
Fundamentally, a sampler is a synthesizer that uses an audio file as its oscillator: load in a segment of audio (a sample), play MIDI notes up and down the keyboard, and the sampler will play back the sample at the desired musical pitch. From here, you can loop, reverse, filter, envelope and modulate the sound via the sampler's various synthesis-style features.
Early hardware samplers could only store a few seconds-worth of audio – resulting in the primitive sampling techniques heard on plenty of '80s and '90s tracks – but the modern breed of software equivalents can now manipulate a near-unlimited number of samples in an almost immeasurable number of ways. For instance, many samplers recreate the nuances of realistic instruments by playing back separate samples across a variety of pitches, velocities or articulations – a process called 'multisampling'.
Most DAWs come bundled with at least one fully-featured sampler, and there's also a wealth of commercial and free third-party variants available. In no particular order, here's our rundown of the best software samplers that are available today.
1. Native Instruments Kontakt 5
Loaded as either a standalone app or within a VST/AU/RTAS-compatible DAW, Native Instruments' market-leading behemoth is probably the most widely-used soft sampler on our list.
Part of Kontakt's broad appeal can be attributed to its versatility: those who prefer ready-rolled sample libraries and soundsets can use the instrument like a ROMpler and call upon the 43GB of bundled factory content (or the many customised third-party Kontakt libraries available); more advanced users can manipulate samples beyond recognition via its 37 filter types, vintage sampler modes, multiple timestretching algorithms, waveform editing, loop slicing, 19 effects modules and more.
Other standout features include expansive semi-modular routing, flexible signal flow and multi-output capabilities, while power users can take patch design even further with detailed KSP-scripted interfaces and extensive customisation options.
2. MOTU MachFive 3
While a certain 'kompetitor' may steal the limelight, MOTU's MachFive – currently at version 3 – is an extremely powerful sampler in its own right.
Based upon the UVI Engine XT, what differentiates MachFive 3 is how it walks the line between sampler and synth: you can use its 11 sound engines to layer subtractive, FM, granular, wavetable and other synthesis types alongside traditional sampling.
You can also construct custom effects chains using MachFive's 47 onboard effects modules, slice loops with the 'LoopLab' engine, and harness granular, time and pitch processing licensed from French developers IRCAM.
With 17 stereo outputs, unlimited track counts and 45GB of bundled content, MachFive 3 is a powerhouse sampler that's well worth considering.
3. UVI Falcon
One of the most recent additions to the plugin sampler arena comes from French developer UVI, which is responsible for the code used to power several other heavyweight samplers.
Although we've omitted most synth/sampler hybrid instruments from our list, Falcon deserves a mention due to the sheer amount of sample-mangling features it offers. In fact, we can't classify the instrument as either a sampler or a synth: it sits firmly in the middle of the two categories, as you can either use synth waveforms or load in audio files.
In addition to the ten synthesized oscillator types on offer, there are seven sample-based oscillators, ranging from a 'classic' sampling mode through to granular, slicing, 'stretch' and 'scrub' modes. Other features include 80 built-in effect modules, a customisable interface, events and scripting features for deep sonic exploration.
4. Togu Audio Line TAL-Sampler
In a world where software samplers are filled with futuristic features and overwhelming sample libraries, Togu Audio Line's TAL-Sampler is a streamlined tool that takes its inspiration from sampling past.
The nostalgic timbres of early sample-based music can be at least partially attributed to the character and grit that hardware samplers would impart over sounds. To help you achieve these characteristics in the box, TAL-Sampler emulates the digital-to-analogue-conversion processes of several classic sampler models, meaning you can run overly-clean samples through these virtual DAC stages. The plugin also emulates classic timestretching for those distinctive sllllooooowww '90s effects, and wannabe Squarepushers can even modulate sample start times for all-out glitchiness.
TAL-Sampler's humble four-layer architecture, while not as expansive as other samplers, is geared towards a streamlined approach that's reminiscent of old-school sampling. Elsewhere, there's a self-resonating multimode filter (switchable between 6, 12 and 24dB/oct modes), modulation matrix, three envelopes, three LFOs, and three effects (reverb, EQ and delay). The GUI is also fully scalable, and both the font and background colour can be altered.
5. AIR Music Technology Structure 2
Previously known as Wizoo Sound Design, German-based AIR Music Technology is the developer behind Structure 2, an advanced sampler instrument that's bundled with a sizeable 37GB sound library.
At the instrument's core is "a powerful 128-level multitimbral universal sound engine that can support up to 8-channel interleaved samples", facilitating the creation of complex multi-layered patches and signal chains.
There are 20 effects modules to choose from – including reverb (both algorithmic and convolution), delay, EQ, compression and more – of which an unlimited number can be chained. There are also four global sends, each containing four effect slots, aiding flexible signal processing and routing.
There's full MIDI learn, plus six 'Smart Knobs' (AKA macros) that give you access to half a dozen of your favourite parameters. Also note that Avid's Pro Tools DAW comes bundled with a stripped-down version, Structure Free.
6. Steinberg HALion 6
Steinberg's flagship virtual instrument, HALion, started life in 2001 as a virtual sampler.
With multiple synthesis engines added over the last three versions, though, it now does so much more than just play back audio that it's better described as a 'sound design workstation'. HALion 6 sees the integration of yet another flavour of synthesis, as well as real honest-to-goodness sampling, the ability to build your own custom instruments, and a boatload of new sampled content.
With its wavetable synthesis engine, real-time sampling functionality and easy script editing, HALion 6 is dizzying in its versatility, customisation and open-endedness. Whether you just want to exploit the countless sounds in its preset library or design epic instruments from the ground up using its multifaceted sampling and synthesis building blocks, it's a true powerhouse.
7. 112dB Morgana
Originally released in 2008, Morgana was the first software sampler instrument to emulate the crusty, characterful tone of yesteryear's hardware units.
Billed as "an authentic representation of a vintage digital sampler", Morgana emulates the lo-fi degradation of early samplers via a primitive 8-bit depth and a variable sampling rate of between 10.1kHz and 29.41kHz. Circuitry imperfections can be dialled in further, giving your sounds a thoroughly vintage vibe.
Layout-wise, Morgana's interface is purposely basic, meaning that anyone familiar with synthesis or sampling should be able to dial in suitable settings in no time – although those used to traditional software sampler giants may miss the usual swamp of editing features.
8. Magix Independence Pro
Formerly owned by Yellow Tools, Magix's sampler instruments are jam-packed with content and features, ensuring them a place on our list.
The range is divided into three 'packages': Independence Pro is the full-fat version, bundled with over 70GB of premium content; Independence Basic is identical except for its streamlined 12GB of content; and finally, there's the feature-restricted Free version, which enables you to load up to 25 audio files.
Independence Live is the performance-oriented front-end, which allows you to call up not only unlimited Independence projects, but also any third-party VST instruments and effects. Custom setups can be recalled, switched and tweaked via MIDI learn.
The Independence FX section is a drag 'n' drop virtual effects rack that you can use to stack up and reorder your choice of 45 insert effects.
9. DiscoDSP Bliss
Billed by its developer as "a next-generation sampler", Bliss offers a handful of standout features that aren't found elsewhere.
One unique feature is Bliss's VSTi sampling: call up any VST instrument within the plugin, load up your chosen preset, and define sample duration, tail length, and note/velocity ranges. Bliss will then automatically generate a custom selection of multisamples as an offline process before reloading these samples back into itself for instant playback. Who said the multisampling process had to be laborious?
Bliss also comes with several other handy sampler functions: there's granular sampling, a suite of onboard effects (including chorus, delay, reverb and unison, bit reduction and saturation), eight customisable macros, GUI customisation and more.
10. Image-Line DirectWave
This offering from the minds behind FL Studio is a great choice for the PC-based producer looking for a heavyweight multisampler.
It's another instrument that's capable of batch VSTi multisampling: load in another instrument plugin inside, then let DirectWave render and compile a multisampled patch.
Elsewhere, it's stacked with all the typical sampler features you'd expect: 16 outputs, 128 programs, infinite zones per program, key and velocity layering, 16-slot mod matrix, multimode filter, four loop modes, send/return effects, two mod envelopes, four LFOs and plenty more. Plus, it can open almost any sampler format: WAV, SoundFont, RX2, Kontakt, Battery, AKP, EXS and more.
DirectWave is available in PC VST format, and it's also bundled with the FL Studio Signature and All Plugins bundles. In addition, all FL Studio users also get a slimmed-down version, DirectWave Player.