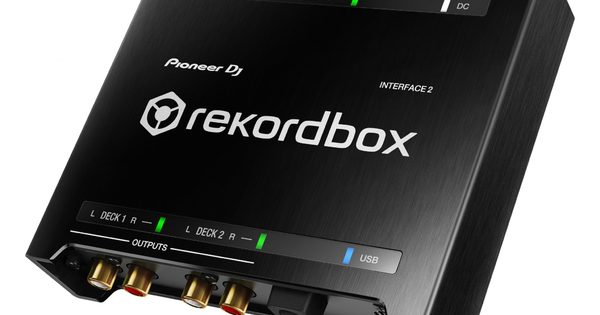 Pioneer DJ has finally announced it's Rekordbox DJ turntable and CDJ two channel USB soundcard called the Pioneer DJ Interface 2.
This new device is a Digital Vinyl Interface that allows DJ's with any mixer to use Rekordbox DJ DVS with vinyl or CD timecode.  Now DJ's don't have to shell out massive amounts of money to get a Rekordbox DJ DVS-ready mixer in order to play.  The Pioneer DJ Interface 2 will be available shortly for the cost of only $300 in the US.
The package will also come bundled with the full Rekordbox DJ software, Rekordbox DVS, two Rekordbox vinyl, and there is also a link to burn a CD or wave file for a USB stick for CD Decks.  The Interface 2 can be USB powered or run on the power supply.  Check out the quick intro video below and stay tuned for our full out review as soon as we get it…
Torrance, CA – (July 6, 2017): Today, Pioneer DJ is proud to announce it is opening up the rekordbox ecosystem to all DJs by releasing the INTERFACE 2. This new 2-channel audio interface lets consumers use rekordbox dvs to scratch and control the digital music on their computers using any DJ set-up.
Wherever DJs choose to perform, using Pioneer DJ products or other hardware, users can connect the INTERFACE 2 quickly to their equipment. It features LED lights to indicate signal flow and warn users about signal problems. It also delivers club-standard sound quality thanks to its high-performance components.
License keys for rekordbox dj and rekordbox dvs, as well as two timecoded vinyl records, worth a combined $258, are bundled with the INTERFACE 2 so users can start scratching digital tracks as soon as it's unboxed.
The INTERFACE 2 will be available from early July with a retail price of $299.
Watch the introduction video or find out more about the INTERFACE 2.
KEY FEATURES OF THE INTERFACE 2
1.    High-quality sound
You can use the INTERFACE 2 at gigs thanks to its crystal-clear sound, inherited from our professional DJ gear. Supporting audio up to 96kHz, it features a high-quality D/A converter and the S/N ratio exceeds 110 dB, so it's well suited for use in clubs.
2.    Compact, robust chassis
Take the INTERFACE 2 out on the road with confidence. The unit is compact, portable and its seamless aluminium casting makes it highly robust, while the extended edges protect the terminals.
3.    LEDs indicate signal flow
Connect the INTERFACE 2 to any DJ set-up quickly and easily, even in a dark club. After plugging into your laptop via USB, LED indicators on the INTERFACE 2's top panel show signal flow, giving you a visual grasp of the setting status. You'll immediately see if there's a signal failure or a problem with a connection, or if the signal level is too low or high, for example when a turntable is incorrectly connected to the line input. The LEDs flash if a signal is in mono only.
4.    Includes control vinyl plus licenses for rekordbox dj and rekordbox dvs
The INTERFACE 2 comes with bundled license keys for our professional DJ performance application rekordbox dj and the rekordbox dvs Plus Pack, so you can control and scratch digital tracks stored on your computer. Using the engine of rekordbox dj, which uses the same audio signal processing in our professional DJ mixers and multiplayers, you can enjoy high-quality audio and low latency response.
5.    Other features
·      Mains or USB power – choose your preferred source
·      Stand-alone audio interface – use the INTERFACE 2 for recording audio to your computer or to send audio to speakers
·      Large signal GND terminal – firmly holds turntables' ground wires to reduce noise. The knob stays attached even when fully turned, so it can't be dropped
·      High-quality audio – supports 44.1 kHz / 48 kHz / 96 kHz signals
·      DVS options – use time coded vinyl (included) or custom control signal WAV file for use via CDs or USB drive (free download available)