Spread the love Mixvibes' Remixvideo v1 brought a clip launch Abletonesque aesthetic to working with video. And after launching on Mac, a Windows version was added,...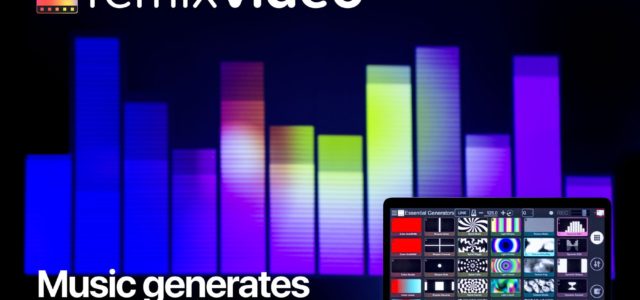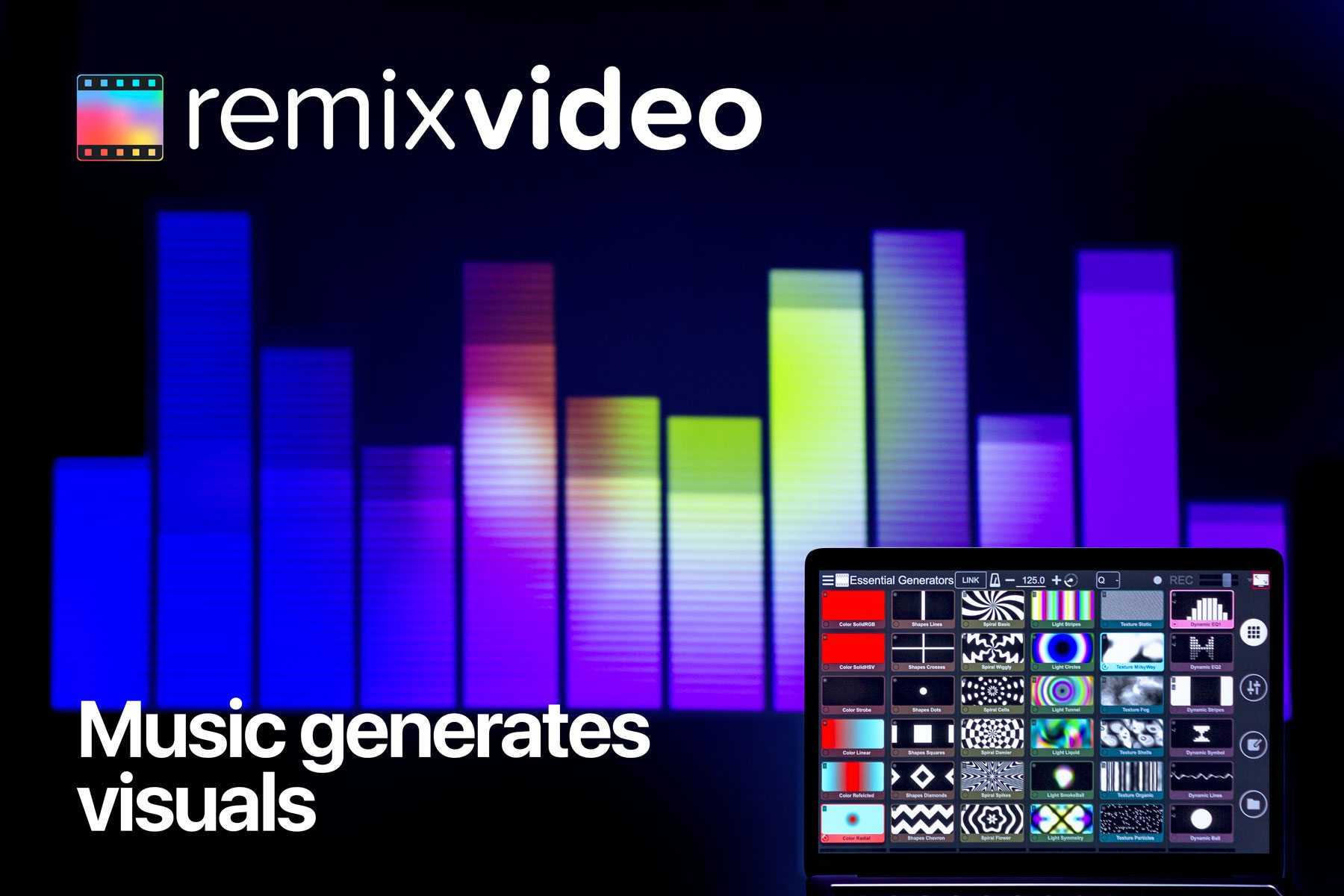 Mixvibes' Remixvideo v1 brought a clip launch Abletonesque aesthetic to working with video. And after launching on Mac, a Windows version was added, and then Ableton Link amongst other things. But now we're at v1.3, and Remixvideo moves beyond the scope of loops and samples, and introduces Generators and the ability to create visuals right within the software, as well as normalising the full price to $99.
Announcing Remixvideo V1.3 — Music generates visuals.
Discover Generators, visual content generated in real time. Tweak their shapes with adjustable parameters and let them react to the music to create infinite possibilities.
Remixvideo now provides fully controllable visuals at your fingertips, known as Generators: let BPM-synced and audio-reactive Generators intuitively follow the dynamic of the music, or take advantage of infinite parameter combinations to create custom shapes, colors or textures.
Generators open new possibilities for existing features: activate Audio Live Input, launch BPM-synced or audio-reactive ones and let the music generate perfectly-matching visuals. Assign parameters to a MIDI controller and move the knobs to transform shapes in real time.
Play Generators alongside any type of video files, whether they are pictures, gifs or regular video clips. Enhancing one's collection with 36 new visuals free to download, they provide a unique flavor that helps make every performance as unique as can be.
Create interactive visuals with Generators
Custom colors, textures and shapes
BPM-synced and audio-reactive.
Open new possibilities for existing features
Make Generators react to external sources with Audio Live Input.
Map Generators' parameters to a controller with MIDI learn.
Enhanced video collection
Adding 36 free Generators plus another new pack available for purchase.
Combine Generators with other visuals, pictures or video clips.
MAIN FEATURES
Audiovisual sampler
Play fully-synced video samples, link audio samples to video pads.
Modular grid: up to 8×8 pads.
3 playmodes: loop, one-shot and gate.
Audio sample editor: quantize, gain, mute audio.
Video sample editor: hue, contrast, brightness, saturation, chroma key, position & scale.
Professional video mixing
18 video FX & 7 mixing modes.
Built-in mixer: audio & video faders, bi-filter knobs, EQs, mute & solo buttons.
Live BPM control with time stretch and tap tempo.
Touch Bar editing shortcuts on the new MacBook Pro.
Autopilot: automatically plays a sequence of pads.
Video content and output
144 free professional video samples worth $156.
Import samples: supports main AV formats & video codecs (avi, mov, mp4, mpeg, hap,…).
Live video input: play webcam or camera input onto a pad.
Generators: includes 48 free real-time generated/audio-reactive files.
Record in MP4 and upload to YouTube and Dailymotion.
Hardware and software compatibility
Audio live input.
MIDI support and MIDI learn.
VST/AU plug-in.
Ableton Link support.
Syphon/Spout support.
PRICING AND AVAILABILITY
Remixvideo is available at a new full price of $99.
Buy: order.shareit.com/cart/view
Free Download & More info: https://goo.gl/Y8moR8
Free "Essential Generators" pack: https://goo.gl/TtSVCE
Generators are fun. Sometimes a show doesn't require actual video to be manipulated, and something more like a vibe being created to match the music. And that's what generators offer. Obviously you can use them to supplement video clips too, but now you have some additional pizazz for your video show.
Like other Mixvibes products on desktop, you can grab a trial version, and then decide if it's for you. And now its at a lower price of $99 too, which makes it a tad easier to justify. You just got more for less.